Wings Etc. picks up pace on sponsorships of NASCAR® Xfinity® Series Jeremy Clements Racing #51 Camaro
Multistate sports bar brand Wings Etc. Grill & Pub partners for third straight year with Jeremy Clements Racing as the major team sponsor for "Explore the Pocono Mountains 225," the "Cabo Wabo 250," and the "Pennzoil 150 at the Brickyard" Xfinity Series events.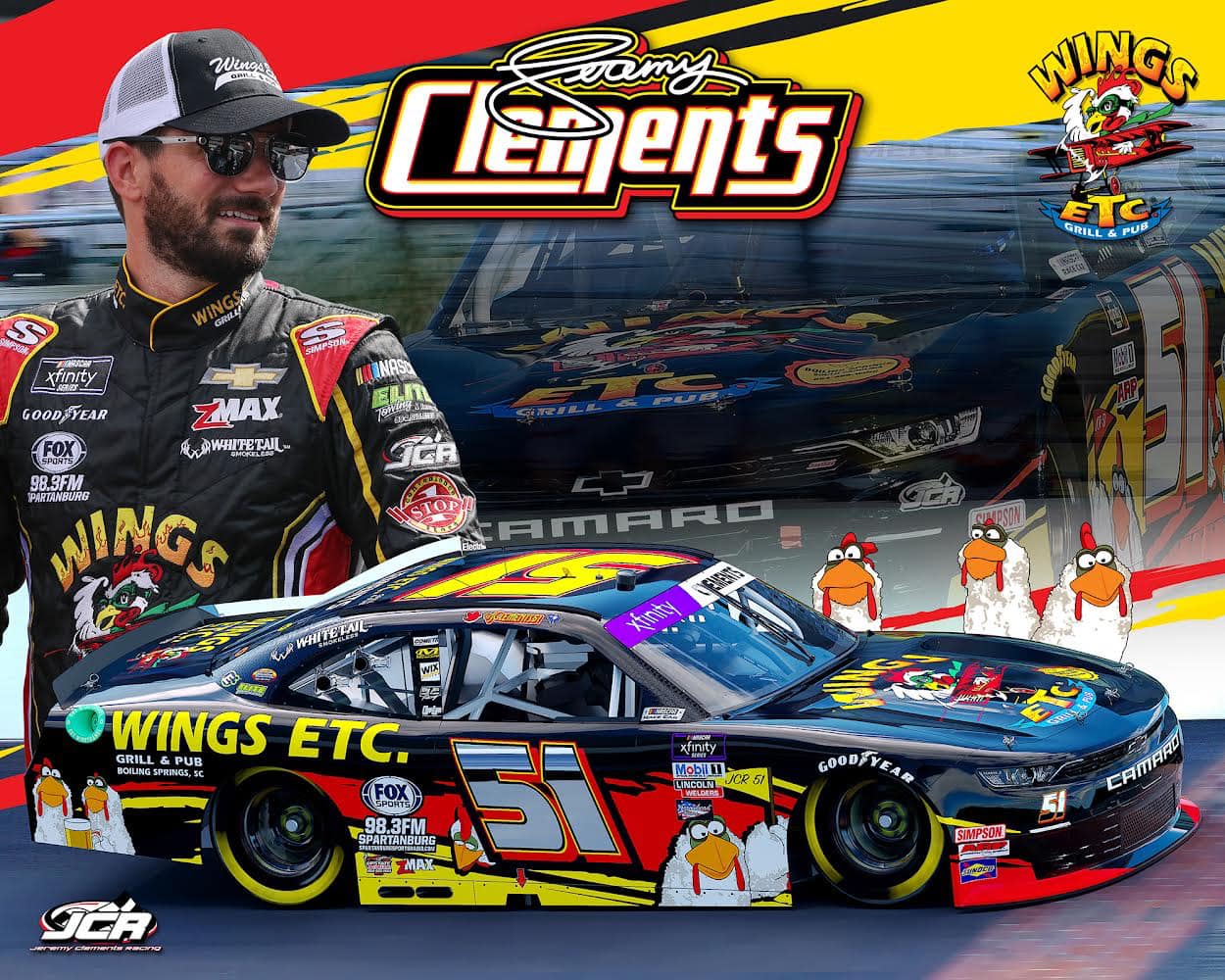 FORT WAYNE, Ind. (July 18, 2023)—There's magic in threes—at least that's the thinking at 83-unit sports bar brand Wings Etc., which enters year three of sponsoring NASCAR Xfinity Series driver Jeremy Clements and takes the major sponsor position for three races on the 2023 Xfinity Series schedule.
After two very positive, exciting sponsorship experiences in 2021 and 2022, Wings Etc. was anxious to get its brand—including its iconic chicken puppet mascots—back onto Clements's jet-black #51 Camaro, and back onto the national stage at multiple NASCAR Xfinity Series races: Pocono (July 22), Michigan (Aug. 5) and Indianapolis (Aug. 12).
Wings Etc.'s Jeremy Clements Racing sponsorships started as a friendship between the driver and Wings Etc. Boiling Springs, S.C. franchise owner Scott McFalls. Clements went from "great customer" to "great marketing partner," as evidenced by the McFalls partnership, and by the Wings Etc. national brand's continuing investment in the driver and team.
"We're excited to sponsor Jeremy again this year," said McFalls. "We'll be the major sponsor for the #51 Wings Etc. Camaro at this year's Pocono race, and Wings Etc. corporate is sponsoring his Michigan and Brickyard races. Jeremy's a local guy and a long-time regular at our Wings Etc. pub. We're proud of his family, his team, and his commitment to excellence. Our place will be full of his fans on race days, cheering him on for sure."
Clements is a Spartanburg, S.C., native who has deep family connections to auto racing and began his NASCAR Xfinity career in 2003. He is currently ranked 19th for the 2023 season and has 37 Top-10 NXS finishes. In 2022, Clements finished first at the "Wawa 250 Powered by Coca-Cola" race at Daytona International Speedway.
On July 22, viewers can see the Wings Etc. #51 Chevy Camaro for the first time at the Pocono International Raceway for the "Explore the Pocono Mountains 225" at 5:30 p.m. The car will return under Wings Etc. branding for the second year at Michigan International Speedway for the "Cabo Wabo 250" at 3:30 p.m. on Aug. 5, and for the third year on Aug. 12 for the "Pennzoil 150 at the Brickyard" at 3:30 p.m. at Indianapolis Motor Speedway.
Wings Etc. fans are also invited to join the Wings Etc. team in the infield of the Michigan International Speedway on Aug. 4-5, starting around 7 p.m. (until the wings are sold out), where the team will be cooking up their famous award-winning wings and taking donations for St. Jude Children's Research Hospital.
Boiling Springs area fans who aren't traveling to a race can visit Wings Etc. Boiling Springs on race day for a viewing party, Jeremy Clements Hero Card giveaways, and specials on RJ Rockers Brewing Co.'s specially crafted #51 Jeremy Clements "Racing Fuel" brew.
Leading up to the event, Wings Etc. hosted a giveaway where eight lucky fans won pit passes and tickets to the Michigan and Indianapolis races.
Wings Etc., an Indiana-based sports bar brand, has locations in multiple states, including several throughout Indiana and southern Michigan for those traveling to and from the races
Section: Press Releases