Wings Etc. partners with Stanz Foodservice to lend a helping hand to Kentucky tornado victims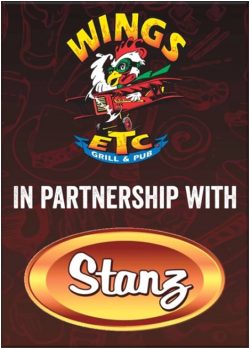 Wings Etc., along with Stanz Foodservice and their vendor partners, worked to distribute much-needed food items to victims of the early-December tornado outbreaks across the Midwest and South
MAYFIELD, Ky. (Jan. 4, 2022)— After a December tornado outbreak caused destruction throughout the Midwest and South, Wings Etc., Inc. and Stanz Foodservice jumped into action and worked to deliver food supplies to people impacted by the devastation. While much of the town of Mayfield, Kentucky, was affected by the tornados, Wings Etc.'s franchise location in Mayfield was spared, allowing the local franchise owner to coordinate with community efforts to help those in need.
"Thanks to the generosity of Stanz Foodservice and their partners, our Wings Etc. franchise owner in Mayfield was able to distribute thousands of meals to those in need in Kentucky," said Eric Stuczynski, Wings Etc., Inc. Chief Procurement and Development Officer. Stuczynski worked with Stanz to ensure the food was delivered to the Mayfield Wings Etc. location.
Over 35,000 hot dogs were donated by Smithfield Culinary, 5,800 hamburgers were donated by The Protein Specialists Company, and over 700 servings of Pollock were donated by Trident Seafoods. Other donations included 4,000 bottles of water from Atlantic Food Distributors, over 7,500 hot dog buns from Alpha Baking Company, Inc., 2,880 croissants from Bake Crafters, and 2,800 hamburger buns from Flowers Bakeries Foodservice.
As food donations made their way to the Wings Etc. Mayfield location, Mayfield team members cooked warm meals daily and distributed them at the Mayfield Plaza. Once the Wings Etc. location resumed business, Wings Etc. of Mayfield donated the remaining food supply to Southern Reds BBQ and Cuba Church of Christ, who worked together to cook and deliver food to individuals impacted by the tornados.
The Dec. 10-11 tornado outbreak spanned over 150-miles and killed over 90 people—77 in Kentucky alone. Weeks after the destruction, cleanup continues. The Wings Etc. location in nearby Madisonville has been working as a drop-off location for clothing, non-perishable food items, new or slightly used toys, sealed bottled water, and personal hygiene products. Wings Etc. Madisonville is located at 97 Madison Square Drive in Madisonville, Kentucky.
Those wishing to provide monetary donations to assist with disaster relief can do so through The American Red Cross. To donate, visit www.redcross.org/donate.
About the Wings Etc. Grill & Pub Franchise Opportunity
Founded in 1994 by Jim Weaver in the South Bend, Indiana, area, Wings Etc. is a family-friendly grill and pub with a diverse menu featuring award-winning jumbo Buffalo wings, over 20 signature sauces and rubs, premium burgers, wraps, salads, appetizers, sandwiches, subs, kids meals, over 40 domestic and craft beer selections in bottles and on tap, dozens of large HDTVs tuned to sports programming, and a casual, non-corporate-y, laid-back "vibe" that makes people want to just come in and hang out. In addition to its popular sports programming, menu, and beverage options, Wings Etc. offers weekday lunch and food specials, online ordering, and much more.
Franchising since 2004, Wings Etc. Grill & Pub has been named one of Restaurant Business Magazine's "Future Franchises," has been named one of Franchise Gator's "Top 100 Franchises" for several years, and was named a 2020 "Culture 100 Best of the Best" franchise by Franchise Business Review. In June 2021, Wings Etc. was named a "Top 200 Food Franchise" and a "Top 500 North American Franchise" by Entrepreneur Magazine. Wings Etc. continues to grow and succeed by partnering with franchise operators who share the Wings Etc. Vision, Mission, and Values, a commitment to building a successful business while helping build stronger communities and people (and to having fun!).
Wings Etc. offers single and multi-unit franchise options. The initial franchise fee is $39,500, with a $200,000 liquid cash investment, and $500,000 minimum net worth requirement for interested prospects. Wings Etc. offers one of the lowest startup costs and break-even franchise opportunities in the full-service restaurant segment. Priority growth markets include Ohio, Tennessee, Kentucky, Michigan, Missouri, North Carolina, South Carolina, Illinois, Pennsylvania, West Virginia, Alabama and Florida.
For more information about the Wings Etc. franchise opportunity, visit www.wingsetcfranchise.com.
About Stanz Foodservice
Stanz Foodservice is a full-line foodservice distributor, owned and operated by second and third generation members of the Stanz family. Since 1923, we have remained committed to providing operators the highest quality products and services in the foodservice industry empowered by relationships built on our key core value of integrity.
Through our affiliation with Frosty Acres Brands and IFDA (International Foodservice Distributors Association), we have access to the necessary information and programs that enable us to accommodate a wide variety of foodservice operators – from small independent restaurants to large institutions and multi-unit chains. To learn more, visit www.stanz.com.
Section: Press Releases