Wings Beach Club partnering with U93 to raise money for Roofsit's child abuse prevention programs in Michiana
On June 18, Wings Beach Club at Wings Etc. Osceola will host a charity volleyball tournament where 100% of the proceeds will benefit U93's Roofsit event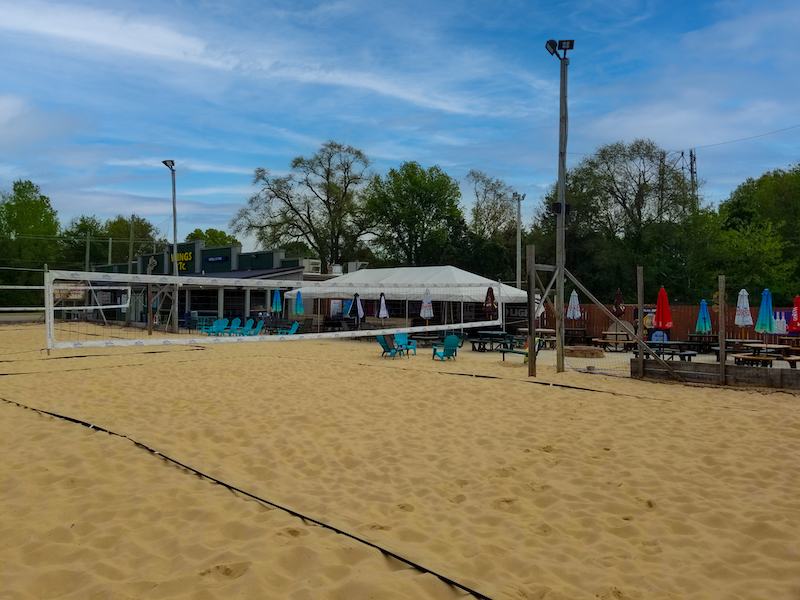 OSCEOLA, Ind. (May 31, 2022)— For over 25 years, U93's annual Roofsit event has raised money for child abuse prevention and awareness in the Michiana area. This year, in partnership with Wings Etc. Osceola and Wings Beach Club, a charity volleyball tournament will take place on June 18, which aligns with Roofsit's annual fundraising week from June 20-24. According to Wings Etc. Operation Company COO Ryan Flickinger, the event is a great way for Wings Etc. to continue its goal of making a difference in the community.
"Roofsit is a great event that helps raise much-needed awareness to child abuse prevention. Given the timing of their event and our ability to host volleyball tournaments at Osceola Beach Club, it made a lot of sense to give back in this way," said Flickinger. "We love our community, and when opportunities come up to help local organizations, we like to do so."
Roofsit began in 1996 when two DJs at the U93 radio station felt called to help victims of abuse. The pair spent the week on business rooftops and shared stories from survivors and the impact child abuse had on them. As a result, donations poured in to help educate the community and to provide resources for abuse prevention and counseling.
Now in its 26th year, U93's Roofsit has raised over $3.2 million for child abuse prevention programs throughout five Michiana-area counties, including St. Joseph, Elkhart, and LaPorte counties in Indiana and Berrien and Cass counties in Michigan.
Each year, more than 15,000 cases of neglect are reported across the Indiana counties that Roofsit serves.
"Community support through Roofsit has direct and powerful impact on efforts to reduce these numbers," said U93 General Manager Pam Mason. "Prevention efforts and education provide a significant return on investment in the community. We know prevention works."
The Roofsit Charity Volleyball Tournament will take place at Wings Beach Club at Wings Etc. Osceola on Saturday, June 18 at 2:30 p.m. Check-in begins at 2 p.m. A total of 30 four-person (2 men/2 women) teams will participate in two divisions (15 teams per division). Division A is reserved for competitive/elite players, and Division B is for recreational/less competitive players. Players must be 18 or older to play.
The cost to enter is $120 per team or $30 per person. One hundred percent of the entry fee will be donated to U93's Roofsit.
To sign up, visit https://beachclub.wingsetc.info/product/u93s-roofsit-tournament-saturday-june-18th/.
About the Wings Etc. Grill & Pub Franchise Opportunity
Founded in 1994 by Jim Weaver in the South Bend, Indiana, area, Wings Etc. is a family-friendly grill and pub with a diverse menu featuring award-winning jumbo Buffalo wings, over 20 signature sauces and rubs, premium burgers, wraps, salads, appetizers, sandwiches, subs, kids meals, over 40 domestic and craft beer selections in bottles and on tap, dozens of large HDTVs tuned to sports programming, and a casual, non-corporate-y, laid-back "vibe" that makes people want to just come in and hang out. In addition to its popular sports programming, menu, and beverage options, Wings Etc. offers weekday lunch and food specials, online ordering, and much more.
Franchising since 2004, Wings Etc. Grill & Pub has been named one of Restaurant Business Magazine's "Future Franchises," has been named one of Franchise Gator's "Top 100 Franchises" for several years, and was named a 2020 "Culture 100 Best of the Best" franchise by Franchise Business Review. In June 2021, Wings Etc. was named a "Top 200 Food Franchise" and a "Top 500 North American Franchise" by Entrepreneur Magazine. Wings Etc. continues to grow and succeed by partnering with franchise operators who share the Wings Etc. Vision, Mission, and Values, a commitment to building a successful business while helping build stronger communities and people (and to having fun!).
Wings Etc. offers single and multi-unit franchise options. The initial franchise fee is $39,500, with a $200,000 liquid cash investment, and $500,000 minimum net worth requirement for interested prospects. Wings Etc. offers one of the lowest startup costs and break-even franchise opportunities in the full-service restaurant segment. Priority growth markets include Ohio, Tennessee, Kentucky, Michigan, Missouri, North Carolina, South Carolina, Illinois, Pennsylvania, West Virginia, Alabama and Florida.
For more information about the Wings Etc. franchise opportunity, visit www.wingsetcfranchise.com.
©2022 Wings Etc., Inc. Franchises independently owned and operated.
Section: Press Releases