Life-long fisherman & Jackson, Mo., resident wins Wings Etc. Bass Boat Sweepstakes
Darrell Gibson, a life-long fisherman, was selected out of 65,000 entries to win the Wings Etc. 2023 Bass Tracker® Classic XL Bass Boat package sweepstakes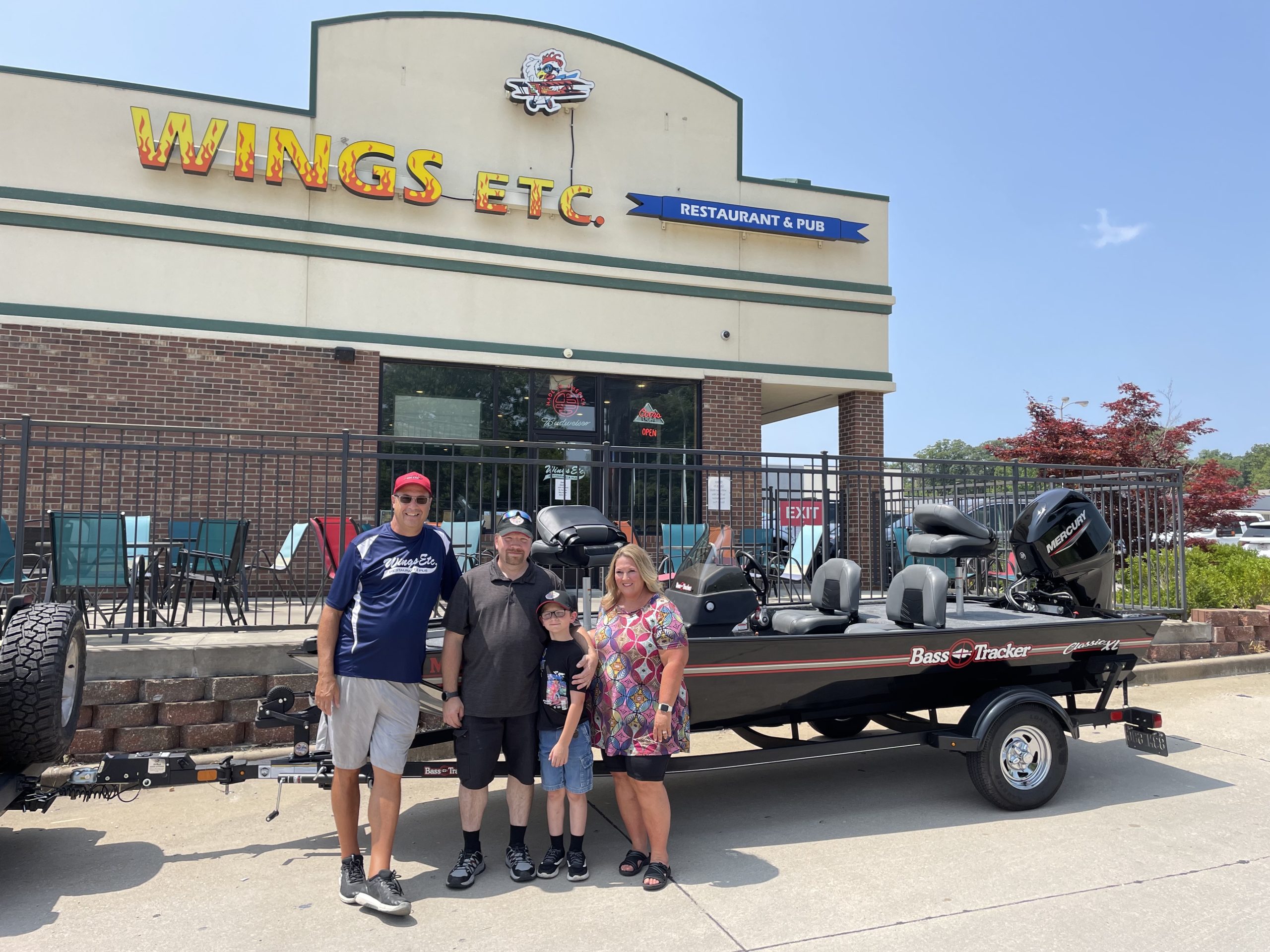 JACKSON, Mo. (July 28, 2023)—A dream came true for a Jackson, Mo., resident when he was chosen as the big winner out of 65,000 entries for Wings Etc.'s 2023 Bass Tracker® Classic XL Bass Boat package sweepstakes recently. Life-long, multi-generational fisherman Darrell Gibson couldn't have been a better pick for the $20,000 boat package, according to Wings Etc. Chief Marketing Officer David Poncé, who recently met with Gibson at the Wings Etc. Jackson location owned by franchisees Joe and Michelle Hobbs.
"It seemed almost too good to be true to find someone not only from the Jackson area but also somebody who lives and breathes fishing," said Poncé.
Gibson explained that he comes from a family of fishermen; his grandfather was a commercial fisherman, and he and his dad fished together from a young age. Gibson and his son have already taken the new boat out for a fishing trip—catching their first catfish on the Mississippi River.
"Ever since I was [my son's age], I've driven boats, I've been fishing, and I've lived on the river," Gibson told local CBS affiliate KFVS 12 News. Gibson said he grew up just a mile and a half from the Mississippi River. "The river is a big deal to me—it's important to be out on the water, and I want to share this with [my son] so he can pass it on to his kids."
Gibson's prize package included a Bass Tracker® Classic XL, which came with a fully equipped boat, motor, and trailer package: a 16' 8" all-welded aluminum boat equipped with a 50 ELPT Four Stroke Mercury® outboard motor, a Minn Kota® trolling motor, a Lowrance® color fish finder, and a custom-matched Galvashield® impact trailer.
The goal of the Wings Etc. 2023 Bass Tracker® Classic XL Bass Boat package sweepstakes was to connect with Wings Etc. fans who love spending time outdoors. Later this year, Wings Etc. plans to giveaway an ATV—continuing their celebration of activities that bring people together.
Section: Press Releases