Community names Wings Etc. Topeka 'Best Wings' for 4th year in a row
Wings Etc. Topeka has won the Topeka Capital-Journal's Reader's Choice category for "Best Chicken Wings" every year since opening in 2020.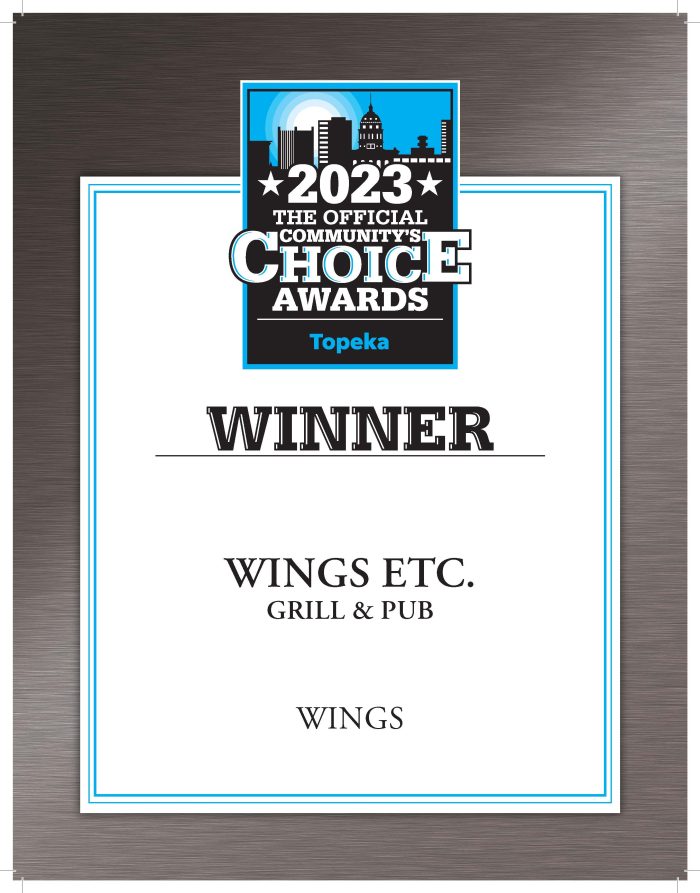 TOPEKA, KS (Sept. 13, 2023)—It's become something of a tradition for Wings Etc. Topeka. The popular sports bar, located in Fairlawn Plaza, has been open for four years and has been named "Best Chicken Wings in Topeka" every year since. During the most recent "Best of the Best" Readers' Choice Awards put on by the Topeka Capital-Journal, Wings Etc. Topeka secured another win.
Franchise owner Dave Clingenpeel has attributed his wins year after year to the way the wings are cooked and the variety of sauces and rubs the restaurant offers.
"Our wings are larger than most places, and they are cooked perfectly crispy," said Clingenpeel. "We also have 19 sauces and rubs ranging from mild to hot and sweet to savory. There is a flavor for everyone."
Dave and Cara Clingenpeel opened their Wings Etc. Grill & Pub in June 2020 and won their first Topeka Capital-Journal "Best Chicken Wings" award just a few months later. In 2021, the restaurant was also chosen by wing lovers as "Twisted Wing King" during the Topeka Wing Fling after mixing two popular sauces—mild sauce and lime-pepper rub—and presenting it at the event.
Like every year, voting for the Reader's Choice Awards was open to the public. Clingenpeel noted that the votes for Wings Etc. were thanks to the Topeka community and guests who love the restaurant.
"We are proud and thankful to be voted 'Best Wings in Topeka' for the fourth consecutive year by our community," said Clingenpeel. "I am also proud of my employees for continuing to focus on quality and thankful for the community's support."
Wings Etc. Topeka, located at 2139 SW Fairlawn Plaza Drive in Topeka, is open Sunday through Thursday from 11 a.m. to 11 p.m. and on Friday and Saturday from 11 a.m. to 12 a.m.
Section: Press Releases